Photovoltaic bra joins forces to save Mother Nature!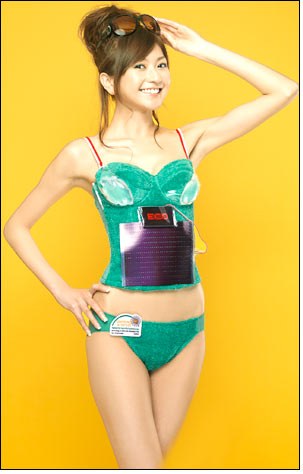 Women's inner wear manufacturer Triumph International Japan well-known for their hit products, "Tenshi no Bra (Angel's bra)" and "Koisuru Bra (Bra in love)," has also been attracting attention for its unique collection of themed bras that reflect social trends.

These include the Triumph "No!! Plastic Shopping Bags Bra" and the Triumph "My Hashi (Chopsticks) Bra," both of which propose an eco-friendly way of life.

This time around, Triumph has focused on the pressing issues humankind faces in the 21st century—namely the need for energy saving, waste reduction and the prevention of global warming—to come up with the Triumph "Photovoltaic-Powered Bra" (not for retail).

The aim of this innovative bra is to raise awareness of environment-friendly energy sources. This new theme underwear will be unveiled to the public at the Triumph Autumn Winter Collection 2008 to be held on May 14 and 15 (Tokyo Ryutsu Center, Heiwajima, Ota-ku, Tokyo, Japan).

Join us and think about global warming, the possibility of gas depletion and other issues relating to the future of the environment and energy!

The Triumph "Photovoltaic -Powered Bra" focuses on the new emergence of a new trend, "from conservation to generation of energy."

The 2008 G8 Hokkaido Toyako Summit, which is to address issues facing the environment as a major theme, is just months away.

Meanwhile, the Japanese government, which has set the target of reducing the nation's greenhouse gas emissions by six percent by 2012 from the 1990 level, and since 2007, has been actively campaigning for people to adjust their lifestyles and make efforts—both in the household and at the workplace to achieve this goal.