Apparel House, Gurgaon to host 41st India International Garment Fair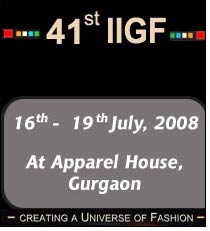 Apparel House, Gurgaon to host 41st India International Garment Fair from July 16 to 19, 2008. It has been 20 years now that AEPC has been bi-annually organizing the IIGF in association with other garment associations. IIGF showcases Autumn/Winter (January) and Spring/Summer (July) collections every year, offering a complete basket of product range to take care of the needs of all types of buyers, be it for ready stocks or brands and from a price range of 2 US$ to 50 US$. Unlike other parts of the world where there are a couple of fairs competing in the same category, this is the only focused fair in India.

One of the highlights of the 41st IIGF is that for the first time it is being organized in the Apparel House – the AEPC headquarters. Apparel House had been developed as an international class infrastructure to create one stop solution for the buyer and alreadywo is a home to more then 200 plus permanent showrooms. The complex boasts of a quality exhibition hall, travel desk and conference centre amongst other facilities. The change of venue has been part of IIGF's efforts to reinvent self and meet the changing demands of the participants like better security and conveniences.

Another highlight is the special publicity campaign launched for expanding the participation base of the Fair. Besides setting up call centre and sponsoring first-time buyers from across the globe, the Fair has been aggressively marketed in important markets in US, EU and Middle East through innovative communication channels. The success of the campaigns can be judged by the fact that a ten member delegation from Myanmar, led by Commerce Minister of Myanmar, will be coming specially for attending the Fair.

For the first time Indian retailers like Lifestyle, Shopper Stop, Trent Limited, Globus Stores, Future Group, Reliance Retail Ltd., Vishal Retail Limited, etc have also been invited to the Fair, indicating the importance being attached to the growing domestic market. Among the exporters also, all the big names like M/s Orient Craft, M/s Shahi Exports, etc. will participate this time.

The show is expected to be attended by 3,000 visitors including Buying-houses, department stores, designers, distributors, garment manufacturers, importers, retailer and wholesalers. Last season of IIGF registered 517 buyers from 62 countries who interacted with 280 participants. This time around 300 participants have registered in the 41st IIGF.

Some important buying houses expected at the Fair are Impulse, Next, Colveta, Espirit, Walmart, Carrefour H&M, Li Fung,etc. Some of the major buyers expected are Court Casuals, DGM Fashions and Positive Australia Fashion from Australia, Stepgrade Ltd, Goria Ltd, Leaflace and, Bruna Fashion Ltd from UK, HI Class Emporium Ltd( Thailand),Aita, HHG, Alca Design, Duiker S.L.from Spain, Entre Ciel et Mer,Distriworld, Flo Mazet and Toshie lo Rue from France.