The look in Manor F/W style: Never without my pocket!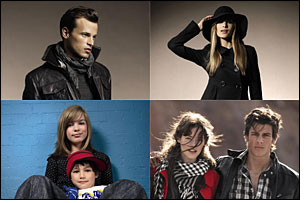 Manor marks the fashion autumn/winter 2008/2009! Let the latest fashion trends inspire and discover the current autumn and winter 2008/2009 collections.

Women's Fashion:
Glamourös, opulent and luxurious: Avant Première is the New Bohemian side discover. JJBenson relies on Clean-chic and the new brand Maddison provides casual look, the new autumn and winter fashion.

An absolute Must Have are dresses with colors, prints and patterns in every which way! What is new is the game between masculine and feminine silhouette: Lässig wide taillenhohe pants are complemented with playful romantic or figurbetonenden shirts and blouses.

A comeback celebrate blazers - in short, one or two-buttoned, gladly casual jeans worn over wide - and the classic Rollkragenpulli.

At Avant Première this fall is nothing without trageangenehmen knitting in all its forms, whether as a fine trick-or dress chic wool Cardigan.

Lush mille-fleur prints conjure an aura of feminine clothes and to bring the modern hippie style comes into play. From the 40s inspired the taillenbetonenden Marlene wide trousers, which combines thin upper parts.

Chanel-style jackets and sweaters Ajour complete the feminine look of the Fourties. Black is the dominant primary color, herbstliches yellow, rust, fuchsia and violet are strong, cheerful accents.

Modemutige access to the new Jodpur trousers in the style riders, including the trendy club jackets are borrowed. Among the many Wollqualitäten fit ethnic-inspired accessories such as long chains with natural stones, Troddeln or springs.

Under the motto "electric cosmos" in massive - like orange or metallicfarbige - rings and bracelets fashionable exclamation mark.

Scarves in Paisley patterns, knee socks and leather gloves are trend, large bags and Doctor "in" as the Clutch in the'20s style.

The fashion autumn 2008 discovered the head covering: the colours match the Style Fashion Victims put a freches Beret.

The new JJBenson shows a total collection in a noble Clean-chic". High-quality materials such as silk satin, wool and cashmere from selected fibers and make cuts with the allure JJBenson-style.

The color is subtle, black, anthracite and brown tones dominate the picture. In addition to traditional costumes and dresses Hosenanzügen are refined into new variations to the fore: Very ladylike Matt gloss effects, figurbetonende Tube or romantic dresses in tea-time style with Alloverprints or nougat and chocolate tones.

The noble JJBenson look is combined with trench. This an essential eye-catcher: the taillenhoch placed belt.

Never without my pocket! What woman would not sign this sentence. And metallic gloss are the trends of the season. Iridescent bags made of silk, gray, black or red, leather or crocodile-print set fashion trends.

The styles are retro-oriented and recall Birkin or Kellybag. Black and white patterned silk scarves and a hat City complement the luxurious relaxation of JJBenson outfits.