Digjam inks retail deal with Scotlands H&S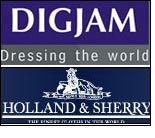 Digjam, leading suiting and casual-wear player in the country, announced recently that it has signed a deal with Scotland-based premium fabric biggie, Holland & Sherry (H&S), to retail its exclusive range in India.

Digjam would be Holland & Sherry's exclusive retailer in the country.

"Our fabric in India would be specifically tailored to the India market and customers and would consist of exclusive offerings of seasonal limited editions," H&S Director (Marketing and Sales) Malcolm Campbell said at a press meet.

The $72 million company boasts the likes of Johnny Depp, Nicole Kidman and Tom Cruise among its esteemed clientele.

H&S is planning to introduce exclusive super-premium segment fabrics in the country including Escorial (of Merino wool), Monadh (Scottish Merino), Snowy River (from Australian wool) in the formal wear, casual wear and evening wear ranges.

"We are beginning with the launch of our 'Vicuna Aymara´ cloth which is made of ultra-free fleece from the Golden Vicuna species of the Andean mountains in Peru," Mr Campbell said.

Vicuna Aymara is claimed to be the most expensive tailoring cloth in the world.

Digjam Vice Chairman Sidharth Birla stated, "All H&S ranges would be distributed through our premium end channel partners including our exclusive stores and independent retailers."