The dark underbelly of Bangladeshi factories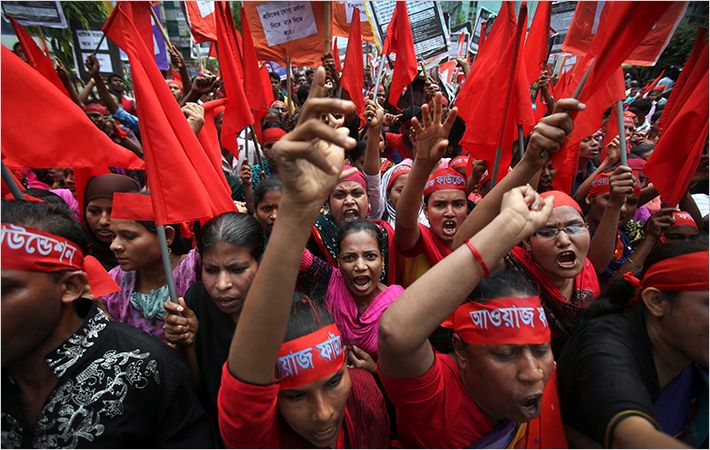 Despite the industrial reforms launched in Bangladesh focusing on safety in the country's garment factories, workers have painted a grim picture of the ground reality where their view remain largely ignored.

In a damning report, the Washington-based International Labour Rights Forum (ILRF) says the next phase of reforms must instill the lessons that respect for workers is as important to safety as are fire exits, that workers' perspectives on safety are as important as the findings of building engineers. Without it workers' lives and health will continue to be in jeopardy.

Between October 2014 and January 2015, the ILRF interviewed more than 70 workers with the assistance of the Bangladesh Center for Worker Solidarity. ILRF says that while it wanted to talk with the workers about fire, electrical, and structural safety issues, the workers wanted to talk about more than the necessary technical repairs and renovations in their factories.

According to ILRF, the workers interviewed described a chilling web of social relations of intimidation and violence that spans factories and apparel companies, workers' communities, government agencies, law enforcement, and even their families. The effect of this web is that workers are silenced. They emphasized that until it is broken they cannot be safe. In the words of one worker, "We say nothing. They say everything. Then how would we say that it's safe?"

"The workers explain that safety is never just a thing that is given them, but a process in which they are actively and vocally engaged. They tell us "how to be safe," a reciprocal process where factory owners and the government listen to workers and workers to them. Safety, the workers say, is fundamentally about mutual respect for their shared humanity and consideration for their different needs. This insight is at the core of these workers' understanding of safety," ILRF said in a report.

Safety, as a process of reciprocity and mutual respect, is something the workers interviewed rarely experienced. Instead they reported production targets and workloads so high that managers prevented them from taking necessary restroom breaks, drinking water, leaving the factory at a reasonable hour, or getting leaves from work to attend to their own or their family members' medical emergencies. Workers told ILRD about wages so low they are effectively trapped in abusive conditions, and about sexual harassment and abuse for which the victims are blamed. Instead of a safe working environment, the workers described to ILRF, with some notable exceptions, a state of abject powerlessness. This is the opposite of safety, from workers' point of view.