CBP intercepts $1 mn in counterfeit products at Savannah Seaport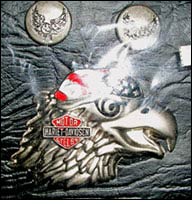 U.S. Customs and Border Protection has seized approximately $1 million in counterfeit wallets, luggage and cell phone accessories bearing the trademarks for "Harley Davidson," "Reiko" and "Bonjour" entering the U.S. at the Savannah Port of Entry.

CBP officers and import specialists discovered shipments of counterfeit merchandise in a container that was selected for examination. The counterfeit items were secreted between legitimate items.

A total of 490 cartons were seized with a manufacturer's suggest retail price of $966,348 and a domestic value of $87,774.00. The cartons also lacked the required country of origin markings.

U.S. Customs and Border Protection will continue to vigorously enforce U.S. trade laws and are committed to facilitating and stimulating the flow of legitimate international trade, according to CBP's Acting Port Director Lynn Brennan.

"As the primary agency responsible for U.S. border enforcement, CBP's mission is to detect and prevent terrorists and terrorist weapons from entering the country," Brennan said.

"CBP officers are targeting every shipment that enters the United States, first for any link to terrorism and then for any other illegal activities. This latest interception of counterfeit goods demonstrates our commitment to stop illegal shipments that violate the laws protecting intellectual property and the American public".

To address the ongoing threat to domestic industries and the needto identify and interdict counterfeited goods, CBP works closely with private industry, U.S. government agencies and foreign governments to stem the flow of illegal goods to protect consumers and the economy.