Well-known celebrities attend GBK's Celebrity Style Lounge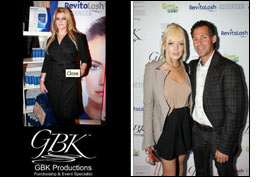 GBK, the luxury lifestyle gift lounge and special events company, honored the Mercedes-Benz Fashion Week with their first ever GBK New York Fashion Week Style Lounge. Celebrities, stylists, models, buyers, and industry VIPs crowded the two-day lounge which took place September 13th and 14th at the Empire Hotel, just steps away from the tents at Lincoln Center.

GBK presented its attendees with an electrifying environment that featured a slew of the hottest new trends and products for spring and summer 2012 including luxury gifts, spa and beauty services, all with an eye on a charitable focus.

GBK's lounge attendees included Lindsay Lohan, Kirstie Alley, Star Jones, Constantine Maroulis, Miss J, Kara DioGuardi, Countess LuAnn de Lesseps, Phillip Bloch, Tamara Tunie and many others.

GBK's two presenting sponsors launched their new products to the "who's who" at Fashion week; RevitaLash debuted their newly-formulated RevitaLash ADVANCED Eyelash Conditioner and Green Smoke, the leading electronic cigarette manufacturer aligned with H.E.R.O (Helping Early Responders Organization) to commemorate the 10th anniversary of September 11th. Green Smoke made a $100 donation to H.E.R.O for every celebrity and fashion industry personality who visited the lounge.

To help accentuate the celebrity fashionista's wardrobe, guests received an assortment of exclusive gifts from Beyond The Rack, Luichini Shoes, Sole Discretion, Croton Watches, Harputs Own, Saachi Style, Melanie Harris, Hard Candy, Skin Medica, Original & Mineral, Bellezza, Arbonne, O.N.E. Coconut Water, Snack Factory Pretzel Crisps, SnapSac, Strivectin, Rullingnet Corporation provided their "VINCI Tab," Stuffed Cupcakes, Point Reyes, Listerine and Caribbean Living.

As always, charity is a major focus with GBK gift lounges. The GBK NY Fashion Week Styling Lounge featured three favorite charities. Fashion Delivers, whose mission is to mobilize the fashion community to reach out and affect the world through their donations of new products from the men's, women's and home industries, will donate relief and dignity to survivors of natural disasters and others in need.

The American Heart Association's Go Red For Women movement is a premier source of information and education that connects millions of women of all ages and gives them tangible resources to turn personal choices into lifesaving actions. The AHA is the nation's oldest and largest voluntary health organization dedicated to building healthier lives, free of heart disease and stroke and Go Red For Women.

They continued on with this mission during NYFW as GBK donated $10,000 to The American Heart Association and National Volunteer Star Jones. Jones is putting her $10,000 gift bag up for auction. Green Smoke and GBK aligned with H.E.R.O commemorating the 10th anniversary of September 11th by donating $100 for every celebrity and fashion industry personality that visited the lounge.

H.E.R.O's primary mission is to support and assist the non-profit organizations that help these 'heroes' in their time of greatest need. The Green Smoke H.E.R.O partnership provides financial aid and product support to offset financial needs faced by the non-profit organizations which support heroes and the families of deployed and injured heroes.