Cutting-edge fashion designers & brands win prestigious export awards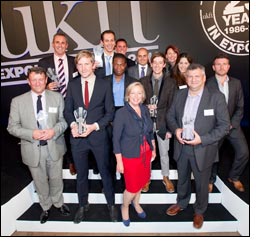 Banqueting House in Whitehall played host 11 October 2011, to the 25th annual UK Fashion & Textile Export Awards where "print master" Mary Katrantzou was named winner of the designer business category and heritage brand Johnstons of Elgin, which has been producing fine cashmere and woollens since 1797, claimed the Gold Award, sponsored by HSBC.

"The past 25 years have shown a boom for fashion and the wider creative industries driven by global demand for UK creative talent. From heritage brands to the high street powerhouses, British style is sought after for its bravery, irreverence and innovation," said Ed Vaizey MP, Minister for Culture, Communications and Creative Industries.

"The eyes of the world will be on the UK next year as we deliver the 2012 Olympics. This is our chance to show that Britain is the leading force in the global creative economy, and this year's UK Fashion & Textile Export Awards are a timely reminder of how central the fashion industry and fashion exports are to this ambition."

UK designers export two-thirds of the clothing that they produce and the UK footwear industry sells over 90% of its production around the world.

"Most designers have to look at exports very early on in the lifetime of their company," confirms Awards Paul Alger, director of international affairs at the UK Fashion & Textile Association (UKFT), the event's organisers.

"Today, international buyers, in particular, are searching for collections that combine creativity with a heritage status; if they are also made in the UK, they are even more in demand," he added.

According to brand expert Allyson Stewart-Allen, founder International Marketing Partners, there has been a "resurgence in popularity for British-made heritage brands", particularly in the US - the second largest market for fashion exports after Europe - as they are "synonymous with quality, luxury and craftsmanship".

"Successful British fashion exporters are companies that recognise the elements that enable their brands to travel well - adapting to suit local markets if necessary," commented Stewart-Allen.

This year marks the 25th anniversary of the competition and entries reached a record level. More than 300 industry guests attended the awards lunch at which the trophies were presented by HRH The Princess Royal, president of UKFT, and hosted by TV's Claudia Winkleman.

Among the guests were Vogue editor Alexandra Shulman, British Fashion Council chairman Harold Tillman and Dragons' Den investor Deborah Meaden, owner of Fox Bros, the UK manufacturer behind the West of England tweed brand.

Other winners were:
Young company Butterfly Twists, which has enjoyed huge international growth in recent months with its stylish, practical ballet pumps, won the New Exporter trophy, sponsored by DHL Express.

Yorkshire-born designer Karl Donoghue was recognised for his collections that use the finest shearlings, leathers and furs and took the Great Brit award.