Naeem Khan to serve as 'Mercedes-Benz Presents' designer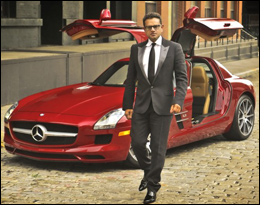 Naeem Khan, the designer known for adorning starlets in his luxurious collection of impeccably cut dresses, sophisticated gowns and chic separates, receives the distinguished title of "Mercedes-Benz Presents" designer for Mercedes-Benz Fashion Week Fall 2012 Collections.

"The admiration we have for Naeem Khan's designs and his exceptional reputation throughout the fashion industry make him the ideal 'Mercedes-Benz Presents' designer," said Lisa Holladay, manager of brand experience marketing for Mercedes-Benz USA. "His highly-crafted embroidered pieces and breathtaking gowns that grace the runways of Mercedes-Benz Fashion Week are expressions of his precision and expertise, and we are thrilled to support his show this season."

Naeem Khan dresses many of the world's most stylish women including clients such as Beyonce, Penelope Cruz, Katherine Heigl, Emily Blunt, Taylor Swift, Lea Michele and First Lady Michelle Obama. In 2008 Khan was inducted as a member of the prestigious Council of Fashion Designers of America. Naeem Khan continues to evolve as one of the hottest names in the fashion industry today.

"As a lifetime Mercedes-Benz owner, the honor of being chosen as the 'Mercedes-Benz Presents' designer has a very special meaning to me," says Naeem Khan. "I am thrilled to receive this accolade from a brand that shares the same passion for innovative design and quality craftsmanship that I do."

In its ninth year, the "Mercedes-Benz Presents" program continues to create unique experiences that tie fashion and automobile design together while supporting the growing needs of Mercedes-Benz Fashion Week designers. Each season, a designer is chosen that demonstrates an unparalleled talent and a dedication to the use of quality materials, unique style and innovative design, all characteristics that define the three-pointed star. Khan joins a prestigious list of past "Mercedes-Benz Presents" designers including Carolina Herrera, Monique Lhuillier, Badgley Mischka, Narciso Rodriguez, and CHADO Ralph Rucci.

As part of the Presents program, Mercedes-Benz is featuring a display in the lobby of Mercedes-Benz Fashion Week showcasing two examples of superb craftsmanship and design: pieces from the Naeem Khan collection and the 2012 ML63 AMG SUV. Just as a fashion designer creates haute couture works of art, Mercedes-Benz creates one-of-a-kind bespoke vehicles out of the highest-quality paints, leathers and trims.

The ML63 AMG on display is the ideal example showcasing the perfect combination of pure performance and chic design roaring with 518 horsepower hand-built engine and an ultra luxe leather interior, featuring hand sewn cross-stitching as well as an optional carbon fiber engine cover and red brake calipers, making this vehicle a fascinating fashion statement.

The display will also be the backdrop for an exclusive invite-only Fashion's Night In event on Thursday, February 9th, to kick off Mercedes-Benz Fashion Week. Invited guests will take part in a Mercedes-Benz DIY Style Studio to make their own bespoke fashion accessories out of luxe vehicle materials. Naeem Khan will make a special appearance along with event hosts, Nicola Ehrenberg-Uhlig, Head of Conceptual Design Team Color & Trim for Mercedes-Benz, Erica Domesek of P.S. I made this... and accessories designer Paige Novick.