Valaya closes WIFW in Azrak style with Kangana Ranaut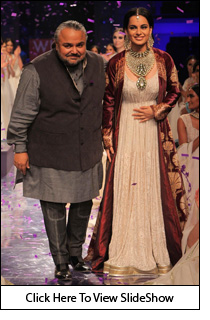 The year 2012 is a special one for JJ Valaya as it marks the completion of 2 decades in the world of Indian luxury for the brand. Several celebrations are lined up through the year but this, the very first one is indeed special as it puts together an all new line of ready-to-wear and showcases it as the Grand Finale for the Wills Lifestyle India Fashion Week (WIFW) Fall Winter 2012.

He closed WIFW with actress Kangana Ranaut.

Azrak in Turkish means 'rare and uncommon'; a befitting title for this collection as it stands inspired by some exceptional and unrivalled arts from the Ottoman Empire. Primarily based on art forms on Ceramic, Fabric, Paper, Leather and Wood, the collection takes one on a journey of a rich and perhaps forgotten era albeit, in a modern and crisp manner.

JJ Valaya, as often before, re-ignites his love for the past and goes back to a host of Topkapi archives to put together a collection which sets itself apart by interestingly combining history with key elements of a classic urban wardrobe. "Celebratory, modern, nostalgic" are his own words for a collection that sidesteps the predictable in favor of a mildly quirky yet vastly acceptable range of contemporary separates.

Starting with a monochromatic palate in ivories and black, the collection gradually treads into color territory whilst all along deliciously delving into unusual art and craft based forms such as Mother of pearl inlay, Turkish miniatures, Iznik Ceramics, Dramatic weaves of the Sultan's robes, exotic birds and graphic calligraphy! Jackets in quilted modern numbers with traditional detailing find themselves paired with breeches and custom print leggings. Denim makes an appearance, too, but not in its predictable avatars but more as details in harmony with lush velvets and gossamer silks.

Specially created prints rule supreme with accents of the famed Valaya embroideries and fine details which truly position this collection as 'The Couture of Pret'. In fact, whilst the prints look well in tune with this season's appetite for ethnic exotica, the textures and patterns undoubtedly project a focused statement of a gracious mix of history with relevance.

Silhouettes pan a wide spectrum and include Internationally accepted styles such as Jackets (and of-course the signature Alika), Dresses, Shirts, Blouses, Skirts and Breeches as well as Indian favorites such as Saris (with a twist) and other fusion coordinates. A select range of menswear compliments the look and feel of the womenswear line. Fantasy sunglasses from Mercura NYC make a special appearance to add a surreal twist to the collection.

For this presentation, JJ Valaya associates with Khanna Jewelers for an exquisitely handcrafted yet eclectic array of traditional and contemporary designs in uncut diamonds and polki, a perfect homage to the myriad styles of our collection.

" After two decades, I'm not trying to run a race to fit in with what's going on," says JJ Valaya "I simply am doing whatI really have always wanted to do…luxuriously nurture our brand whilst pampering my loyalists with (in)credible design and sublime quality to back it with…this collection honors that belief perfectly".