Nine British brands to showcase their fashion line at IFF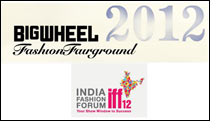 India's first International Fashion Trade Exhibition – Big Wheel Lounge – will be launched concurrent to the India Fashion Forum (IFF)'12 from 13th – 15th March 2012 at the Bombay Exhibition Centre, Mumbai. Brandspoke International are presenting this showcase platform for international fashion companies to present their brands, products and services to over 5000 industry professionals.

The IFF'12 has just got bigger and better this year with four concurrent events - InFashion'12, India Shop Expo '12, the India Shoes & Accessories Forum '12 (ISAF) and the first of its-kind French Pavilion, and Big Wheel Fashion Fairground.

Big Wheel is targeted at both brands already present in the Indian market, but more importantly international labels wanting to establish partnerships in one of the world's key growth booming economies. The participating brands at the Big Wheel are – Ringspun, Luke, Elvis Jesus, Religion, Pretty Green, Traffic People, Without Prejudice, Pepe Jeans & VOI Jeans.

"At a time when the European market is stagnant, India is showing double digit growth, making it a very attractive proposition for a growing number of Western brands," said Brandspoke International director Michael Pike. "With the launch of Big Wheel we're creating a platform where exhibitors will have access to all of India's key retail and manufacturing groups, and we'll be able to work with individual companies on finding the right partner for their brand."

Mr. Amitabh Taneja, Chief Convenor, IFF & Founder, Images Group said, "Big Wheel is poised as a gateway for international fashion brands to discover their future potential in India. We welcome Brandspoke and the British brands to India at the Big Wheel Fashion Fairground 2012."

Peter Beckingham the deputy British Commissioner in India will attend the event and host a welcome address at the High Commission for UK brands. UK Fashion & Textile Association (UKFT) is supporting this initiative by running familiarization trips to key retail areas within India during the course of 2012 to educate brands on the booming retail industry within India.

IFF'12 will also witness six French brands participating under a dedicated zone – French Pavilion - Jules (menswear), Weill (women's wear), Didier Parakian (women's wear), Orchestra (kids wear), Texier (leather bags and accessories) and Mephisto (footwear) – India's biggest fashion fiesta is all set to get a feel of the fashion capital of the world!"

InFashion 2012 co-organized by FAITMA Federation of All India Textile Manufacturers Association, which is in the second year is the only platform in the entire South Asia that showcases textile and ingredient innovations in fibre to finish.

Mr. Ramesh Poddar, President FAITMA, said "Being involved with India's textile sector for as long as I can remember, I am pleased and privileged to address you as the President of the premier representative body of the industry. Indeed, as a co-organizer of InFashion 2011, FAITMA played its part in making the premier event a resounding success. And we stand committed to making InFashion 2012 an even bigger and more memorable experience for all concerned."