Vivacity of Indian fashion displayed at IFFTI in Pink City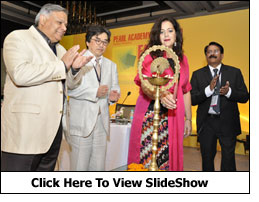 The International Foundation of Fashion Technology Institutes' mega fashion and education event IFFTI 2012, hosted by Pearl Academy of Fashion, concluded after four days of intense discussions, vibrant presentations and exciting competitions, during which leading designers, retailers, stylists, educators, manufacturers and other key stakeholders from the fashion and design industry converged in the Pink City of Jaipur to share their thoughts and vision on the business of fashion.

Inaugurated by acclaimed Italian fashion designer Angela Missoni, the momentous event was attended by fashion and design leaders from across the globe, including Rajeev Sethi from the Asian Heritage Foundation, Simon Lock, Creative Director, Dubai Fashion Week, Jeffry Aronsson, CEO, Emanuel Ungaro, Santosh Desai, Managing Director & CEO, Future Brands Ltd, Ram Sareen, Head Coach/Founder, TUKA group and Frances Corner, Head, London College of Fashion.

Speaking during the closing ceremony, Dr AKG Nair, Group Director, Pearl Academy of Fashion said, "IFFTI is the only conference that attracts national and international design leaders spanning the fashion industry's wide spectrum and provides an interactive platform to all stakeholders across the value chain in the fashion and design industry. The idea behind bringing IFFTI to India was to showcase the universal convergence of fashion and design, while highlighting the enormous potential of the Indian market to the global audience."

These thoughts were echoed by Mr Simon Lock, Creative Director, Dubai Fashion Week, "Conferences such as IFFTI are important to discuss the fashion industry's ever-changing facets and to provide an overview about different aspects in the design supply chain. Backed by its rich cultural heritage, India has the creativity, fashion sense and sensibility to make a lasting impression on global fashion; it's just a question of converting practical ideas into actual designs to further enhance this lineage."

This was clear when Angela Missoni spoke at the start of the conference, when she said: "From the onset, my parents created their success by breaking rules and borders, walking their own path of aesthetic vision that is how they were able to invent a style. The Missoni brand is still successful after 60 years due to the power of sharing values through generations, and the freedom given to individuals to express their talent."

"My greatest wish is that the young students who are here will be inspired by the Missoni story. By sharing a slice of my life, I hope to inspire young designers to reach deep within themselves as they pursue their own creative paths. Never be shackled by borders, norms and conventions. That is what fashion expects from you. You must have the ability to rise above all challenges and believe in your dream. For this is the only way it can become a reality," she stressed.

Bringing together 40 member institutes from across 19 countries, the conference gathered more than 350 delegates which saw 60 papers being presented. The fitting finale was a ramp event that lit up the evening with a dazzling display from vivacious models in resplendent costumes – a true ode to the craftsmanship and genius of various designers.