Designer Lauren Leonard winner of NFF fund 2013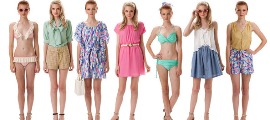 Congratulations to Lauren Leonard, the creative mind behind the fashion line, Leona, for being chosen as the 2013 Nashville Fashion Forward Fund winner. Leonard was carefully selected from an illustrious group of fashion industry professionals that included designers, hair and clothing stylists, photographers, makeup artists and models.

Established in 2011, the objective of the Nashville Fashion Forward Fund of The Community Foundation of Middle Tennessee is to provide an award that will recognize the individual achievements of a fashion industry professional. The financial resources that accompany the award are intended to provide a professional development and/or experiential opportunity for the winner to further advance their career in the fashion industry.

Since Leonard's debut of her line, Leona, in the spring of 2008, it has quickly gained a faithful following and is sold at more than a hundred of the most discerning and renowned retailers internationally. With celebrity fans like Taylor Swift and Giuliana Rancic, sightings in Lucky, Elle and People magazines, and hit television shows Gossip Girl and90210, Leona is becoming one of the fastest growing contemporary labels in fashion today. Best of all, the entire line is created right here in Nashville in Leonard's studio and has shown at Nashville Fashion Week in the inaugural year of 2011 and then again in 2012.

"I am thrilled and honored to be chosen as the recipient of the Nashville Fashion Forward Fund Award! Nashville Fashion Week has been incredibly impactful for our business, and the receipt of this award will only further facilitate our plans for growth," said Leonard.