Rocco Ragni launches at CHIC-ca Fashion in UK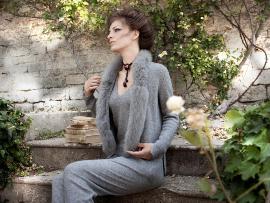 Italian prime quality cashmere brand Rocco Ragni is launching in the UK.
Cristina Abriani, founder and director of the London based CHIC-ca Fashion Showroom, is in charge of the launch and management of the brand in the UK: "I am confident in a tremendous response for this truly amazing brand. Cashmere at high level is in high demand in the British Market and Rocco Ragni is a real gem in the making".
The collaboration with "Cariaggi Yarns" gives Rocco's knitwear both an extraordinary softness, amazing delicacy and resistance. Very fine cashmere yarns are also infused with silk or merino to create original textures.
The high level artisan-made production and the use of the finest Vigogna yarn also permits to realize on demand certified and numbered garments.
Rocco Ragni AW14-15 collection will be available at the London Showroom from now to the end of March and will hit the stores from July 2014.
Rocco Ragni