Vizyon adds Pantone 'Color of the Year' to its collection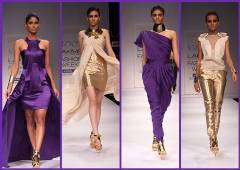 Step out in style this season as Vizyon adds the pantone colour of the year to your wardrobe.
In bold cuts and breezy fabrics, these pieces are easy to wear and exude a hint of femininity and sensuality.
So dress trendy in this vibrant and magical shade of radiant orchid that has been named as the hue of 2014.
And for the less experimental, there are luxurious pieces in gold with subtle undertones of champagne that are perfect for a night of sartorial elegance.
Vizyon