JJ Valaya launches new 'Classic' womenswear range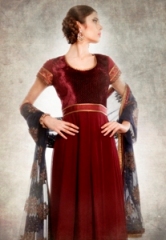 The word classic denotes a particular quality in art, architecture, literature and other cultural artifacts, one that is a perfect example of a particular style of lasting worth or with a timeless quality.
JJ VALAYA Classic is a journey of discovery and interpretation of timelessness itself. Having completed 2 decades of creating a vast array of researched collections, it was time to honor its versatility with an all-new label.
JJ Valaya Classic thus revisits the past and re-interprets its best selling collections albeit in a completely new yet "classic" manner essentially using 6 signature Valaya techniques:
A collection of womenswear which includes Saris and Outfits amongst other silhouettes, JJ Valaya Classic is available at all JJ Valaya stores as well as leading fine Fashion stores worldwide and also online at reputed e-com portals.
JJ Valaya