Fashion label Milch upcycles Tencel shirts into collection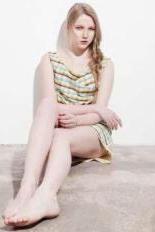 What does one do with TENCEL shirts which end their days as shelf-huggers in the company store at Lenzing because the colors and designs are no longer up-to-date? Upcycling!
The ideal time. Just at the start of promotional activities for TENCEL shirts, the styles from the Viennese fashion label "MILCH" are ready and will be presented at the Parisian trade fairs in February 2014 for the first time.
The "retired men's shirts", as Cloed Priscilla Baumgartner (MILCH designer) likes to name these old but unworn TENCEL shirts, have been revamped in a "special edition MILCH" collection. Skirts, dresses, tops, trousers and caps have been made out of the TENCEL shirts and now shine in their new splendor.
MILCH is an upcycling pioneer. Upcycling is a trend which has developed in the fashion industry. The label has existed for 15 years and has made a name for itself for ethical and sustained fashion. "We pay attention to ecological and socio-cultural aspects in the production chain as a whole. The raw material (men's suits and shirts which have been laid aside) comes from Vienna and is processed in responsible factories," the designer explains.
Lenzing