Danna Paola designs for Mexican denim brand SXY JNS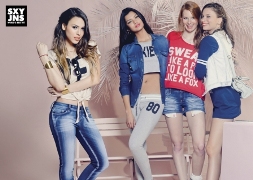 Danna Paola, the beautiful Mexican actress and singer, has added another feather to her cap by foraying into the world of fashion design.
The 18-year-old young sensation has launched a casualwear line with the Mexican denim brand SXY JNS (also called Sexy Jeans).
Inspired from the free-spirited Californian life, the collection includes jeans, overalls, shorts and t-shirts emblazoned with slogans like 'Blah Blah Blah', 'Rebel' and 'Sweat like a pig to look like a fox'.
Established in 1980, the Mexico City-based Sexy Jeans operates through a network of more than 200 outlets throughout Mexico. The brand specializes in young women's denimwear and casualwear designs.
Fibre2fashion News Desk - India