Emilio Pucci crafts Harper's Bazaar limited edition covers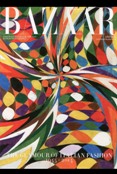 Emilio Pucci has collaborated with Harper's Bazaar UK to create 4 limited edition covers for the April 2014 issue.
The covers are timed in honour of the Victoria and Albert Museum's exhibit "The Glamour of Italian Fashion 1945-2014".
Opening on 5 April 2014, the exhibit will showcase over 90 outfits and accessories from the end of the Second World War to the present day, featuring styles from Italy's leading fashion houses including Emilio Pucci, sourced from the V&A collection as well as from international lenders such as the Pucci maison.
Emilio Pucci