'Jade' by duo Monica & Karishma infuses retro glamour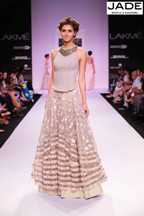 JADE by Monica & Karishma's collection for Summer/Resort 2014 symbolizes a quest for true style, fusing elements from the carefree vibe of the 1960s infused with the glamour of the roaring 20s; Ornate beaded embellishment inspired by the 20s' love for glitter juxtaposed with the voluminous silhouettes of the 60s!
There is a subdued nonchalance in combining the best of the two decades in fashion, brought out beautifully through patterns, stylized accents and accelerating modernist pairings. The collection attempts at presenting Bohemian in a new avatar, one that shakes itself free from its inherent ethnicity and is more relevant for today's New-Age Woman.
Highlights this season are soft pastel colors such as blush and dreamy grey accented by a dash of vivid pink artistically displayed through voluminous silhouettes. The ensembles have been fashioned from fluid fabrics, lending an air of mystical elegance.
JADE