Argentina's Teresa Calandra unveils Fall/Winter 2014 line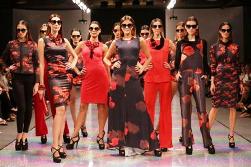 Argentinean television host Teresa Calandra has recently unveiled a Fall/Winter 2014 collection under her namesake label Calandra.
Jointly designed by the former fashion model's business partner Gabriela Flores Piran, the couture like collection, meant for modern confident women, is based on shades of pristine white, sombre grey and bold hues of red, petrol blue and black.
Adorned with prints of flowers and petals as well as tropical motifs, the range includes straight cut pants, dressy tops, zippered jackets, micro minis, shorts and jumpsuits.
Calandra label owns boutiques in Buenos Aires and Santa Fé.
Fibre2fashion News Desk - India