'Charas by Ankur-Sonia' debuts lustry gold vintage outfits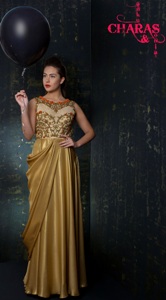 "Charas By Ankur -Sonia" brings an enchanting range of Signature Couture Collection for this season. This latest trend is for those who are looking for a little twist in color for their party wear. The range is inspired from South African, Parisian ancient three dimensional art.
The gowns are in bold, sharp silhouettes and in shades of lustry gold and nude to add a splash of fusion to the look. The collection adds instant glamour and a high chic appeal to the ethnic look. The outfits are designed with great sophistication to give a sense of warmth and style.
The vintage collection from "Charas by Ankur- Sonia" reflects a classy combination of safe colors, surface textures and bold silhoutte .This signature collection has been designed in accordance with the latest European trends and created pieces which are glamorous.
One can choose the perfect piece from a wide range of options that come in attractive designs and stunning patterns. These glittery and sequined gowns can make one look gorgeous at any time of the day.
With this classical Range of lustry gold and nude collection, "Charas by Ankur Sonia" experiments with the latest European techniques and trends to create a style which will never fade with time.
Charas By Ankur -Sonia