Aviraté reveals sensational apparel line with hues of blue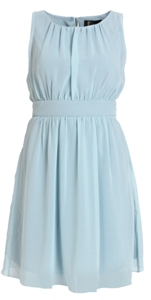 Aviraté, the international fashion brand for women, brings a sensational range of cool & inspiring apparel in all the hues of summery blue!
This summer, beat the heat by choosing from a collection of fashionably blue apparel that helps to stay cool .The colour blue emits a calm and soothing confidence and is definitely the go-to colour for summers.
Aviraté features an assortment of blue apparel, from solid blue dresses that can be stylishly accessorized to sky blue shirts with dainty lace embroidery adding a chic finish.
The free flow of the sheer fabric on the silhouette allows one to take this look from day to night in a flash.
Aviraté