Yamamay debuts smooth & sultry 'Principessa' lingerie line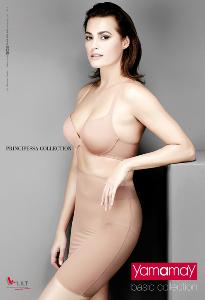 With the use of innovative elements and the latest generation microfibres, Yamamay's Principessa line is designed to obtain corsetry able to enhance woman's body without compressing it, for a second-skin feel.
Its smooth texture caresses the body, providing an incomparable sensation that no other bra can offer.
Not only a fabric that gives the maximum comfort but also some technical specs that make fitting excellent: wires, straps and hooks are inserted by employing some alternative techniques to avoid uncomfortable seams in contact with skin. Plus, the particular bra's structure supports without squeezing, and eliminates lines for an invisible look under clothes.
A unique bra that's able to satisfy even the most demanding women! Principessa line includes a push up bra, a padded bandeau bra, a shaper skirt, a shaper briefs and three bottom parts (briefs, French knickers and brazilian briefs).
Yamamay