Spanish actress Nerea Garmendia forays into fashion design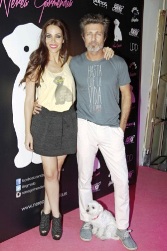 The Spanish film, theatre and television actress Nerea Garmendia Martinez has recently debuted her first ever fashion line titled By Nerea.
Meant for both men and women, the casual and semi-formalwear range features a pink sleeveless blouse tied at the navel, a black and white stripe knee length skirt, a pair of tailored beige trousers, white shirts, an loose-fit blue and white horizontal stripe top and tight fit white pants.
The line also has an array of colourful T-shirts emblazoned with interesting slogans or cute puppy images inspired from the Gipuzkoa-born actress' furry little pet Coko.
The 34-year-old actress has appeared in television shows like 'Gente Seria' (Serious people), 'Made in China', 'La reina del sur' (Queen of the South) and 'Amar en tiempos revueltos' (Love in Difficult Times).
Fibre2fashion News Desk - India