Women's fashion retailer Dots opens flagship store in Ohio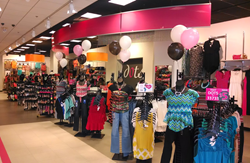 Dots the retailer for women's fashion apparel and accessories had its flag ship store grand opening on Saturday, June 21, 2014 in Cleveland Ohio at the Steelyard Commons shopping center. This will be part of Dots continued store openings under its new management after earlier store openings in Michigan and Illinois this year.
"As the new owners and a family operated business, the new Dots team understands the concept of getting value for your dollar." said Swapnil Shah, the new CEO of Dots. "So we truly believe in Dots' mission statement that 'Looking good shouldn't be expensive'" continues Mr. Shah. With that statement Swapnil Shah confirms that Dots will continue to supply on trend driven women's fashion apparel and accessories at an incredible value. Dots will continue its' Brand Journey to take quality to the fashion savvy customer, and continue to enhance the customer's in-store experience to provide them with an intimate relationship through associates who love fashion: a girlfriend.
The new Dots' family has over 50 year of experience in women's apparel and has aggressive plans to re-launching Dots' presence in the market. According to Dots' CEO, the company is planning on creating over 1200 new jobs.
About the New Dots, LLC
Dots is a retail chain that sells women's fashion apparel and accessories. The brand caters to women who are both fashion and price conscious. Dots stores are primarily located in high traffic power centers, regional and community shopping centers.
Dots