Yamamay unveils elegant wedding line with embroidered lace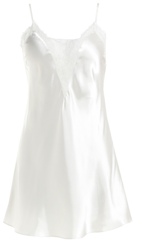 With the opening of the new season, along with the first pieces from the Fall collection, there's an exciting novelty: Yamamay presents "The Winter Bride"!
The collection aims to satisfy all those women who have chosen to walk down the aisle during the second part of the year. A precious embroidered flounce, lace and tulle are the fabrics that make up the collection as a whole; there's the possibility to choose between an elegant corset and a shaping underwear, or within a push-up with a pair of coordinated culottes and a thong. All the pieces are embellished with rhinestones, which are essential details chosen to light up the collection's characteristic pure white.
Alongside with the underwear line, we find a satin and lace nightie, and a super elegant kimono completely made of chantilly lace. The new wedding collection will be available from mid-July in all of Yamamay's flagship stores, and from August.
Yamamay