Bangkok Fashion runway to see label Busardi's 'Thorns'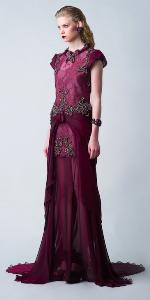 Following its resounding success in February over London Fashion Week, luxury prêt-à-couture label, Busardi is showing its AW14 'Thorns' collection on the catwalk in Bangkok on the 2nd of August.
Co-founded in 2009 by Busardi Muntarbhorn and Tuck Muntarbhorn, Busardi is rooted in practices reminiscent of Parisian fashion houses. The collections, designed by Busardi Muntarbhorn are bedecked with layers of heavily adorned lace appliqué, rich silks and hand embroidery.
Featured in press across the globe, and attracting interest from some of the world's most influential editors, it was Busardi's AW14 collection, 'Thorns' that caught the eyes of V&A film director, Craig Bilham and producer, Mark Londsdale, who approached Busardi with the idea to turn the sartorial narrative underlining the collection into a fashion film. 'Dissociative' has quickly garnered a cult following amongst fashion film critics and the end result puts Busardi firmly beside some of fashion's most celebrated brands.
Busardi is showing on Saturday the 2nd of August at 3:00pm at The Peninsula Plaza in Bangkok.
Busardi