Myntra BFW Day 2 sees most diverse roster of designers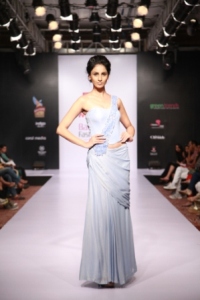 The day 2 of Myntra Bangalore Fashion Week (BFW) 11th edition (Winter Festive) showcased the most diverse roster of designers from every corner of the country. The day started with DREAM ZONE fashion school Collections celebrating the people and places that will inspired the budding designers.

Next was AMYN FARISTA's "AURA OF KHADI". The garments are a compliation of hand woven fabrics like khadi, cotton, linen and other natural fabrics. A vibrant splash of colours to the traditional fabrics was breathtaking.

CHAITALI JHUNJHUNWALA's "the door of paradise" is an every girl dream to look like a princess, the collection is inspired by the whimsical world. The intricate craftsmanship and poetic silhouettes are the highlights from her collection.

LAKEISHA PALHA's "ALIYAH" was an all-time high and crowd's favourite. A good mix of monochromes and shimmer puts this designer on the promising designer stand.

Indian beauty pageant contestant who won the title of I Am She – Miss Universe India and represented India in Miss Universe 2010 "USHOSHI SENGUPTA" set the ramp on fire for the most talented designer for the evening FARHEEN RAHMAN.

ALPA & REENA's collection is inspired by the colors of the seven chakras, or energy centers of our body, one color for each mood: red, orange, yellow, green, blue, indigo and violet. The designs have been interpreted through a fusion of intricate handcrafted embellishments and detailed tailoring inspired by exquisite art forms of traditional embroidery techniques juxtaposed on dramatic yet structured silhouettes with a subtle flare. South Indian movie sensation 'ISHA TALWAR' graced the ramp for the designer duo in a pristine white dress.

'Fun, flirty and feminine', DRESSBERRY is Myntra's answer to the fast fashion phenomenon. The 11th edition of Myntra.com Bangalore Fashion Week (MBFW) saw the graceful and gorgeous model, Indrani Dasgupta walk the ramp for the AW'14 collection of 'DressBerry' - Myntra's western wear brand for women. The 'DressBerry' show was styled by Isha Amin, a renowned stylist and fashion designer.

The AW'14 collection places midnight florals and jewel tones at centre stage, while skater silhouettes and lace inserts stay true to the DressBerry aesthetic. This season 'D Muse', DressBerry's premium line presented monochrome and embellishment as key elements, giving one a curated range of polished looks to choose from.

SHIVANI GELERA's Gracile Definations, Inspired by the era of ROCOCO, which was a revolutionary era of art, with its individualistic style which was, florid, graceful and elegant, like the presented collection, which allows the women to access their true power and to inspire them to lead from the heart and to bring out the feeling of pure confidence & elegance.