RUUM launches runway inspired kid's wear fashion line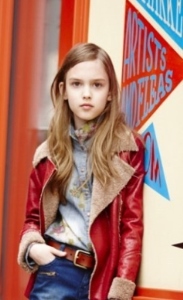 RUUM American Kid's Wear, known by style-minded parents who seek the quality and design they know and love from their own favorite luxury brands, has launched the fall 2014 collection with an infusion of runway inspirations from New York to London to Milan.

Design dedication at the highest level combines the ultimate in quality and value in kids clothing, translated into unique fashion-focused, head-to-toe looks. Key design styles include hand-embellished and raw-dye denims, Coachella inspired dresses, purest soft cotton graphic tees designed by RUUM's in-house design team in Union Square. Lightweight slub jerseys and enzyme washed hoodies along with rocker inspired faux leather and vegan suede jackets, stylishly coordinate with RUUM's own line of footwear, and more.

Celebrity parents with an eye for easy-to-wear fashion have been flocking to RUUM (pronounced room), a new trendy kids clothing line with the latest looks being spotted on Suri Cruise, Harper Beckham, Sara Jessica Parker's twins, Marion and Tabitha Broderick, along with Sean (Diddy) Combs daughters, Jessie, D'Lila and Chance Combs.

"RUUM celebrates and inspires boys and girls, ages 2-14, to get excited and engaged about expressing themselves through their clothing. Our collection is age-appropriate, with runway style and fashion forward designs offered in toddler clothing up to tween. RUUM American Kids Wear is made with the highest quality in mind while still being relatable. Celebrating and inspiring boys and girls around the world to feel their best while making their own unique fashion statement," says Ezra Dabah, RUUM's Chief Executive Officer.

Highlights from the fall 2014 collection include: Modern Rocker - Meant for the kid with a rock star edge and an undeniable flair. The fall collection houses embellishments, graphics, metallic and dark tones. It's what we call, tough chic.

The Moto Jacket is the perfect layering piece for fall with just enough edge to breathe life into your everyday look. Our red vegan suede biker jacket is stylish and on-par with this season's runway obsession with moto style and shearling. The jacket is lined with faux shearling, bringing the perfect amount of slouch and edge to a wardrobe essential that both savvy moms and stylish girls enjoy.
Woodland - Coachella meets Boho chic. Think woodsy inspired patterned tops, earthy tones, cozy yarns and rich fabrications, all rolled together to make an effortlessly stylish woodland girl look.

Dress over leggings may be the foundation to every girl's closet, but this time around we've elevated the layered look with a sequined collar putty floral dress and accompanying harem brushed cotton pants in olive. This is the perfect look to become your insta-obsession!

Athletic Cool - Fun, bright and athletic pieces aren't just for the playground. Pairing a jogger pant with a cool madras plaid flannel proves kids don't have to sacrifice style on or off the courts and fields.