MAS empowers women at Go Beyond Awards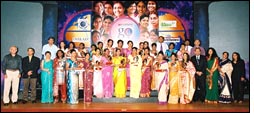 Stakeholders and well wishers joined MAS Holdings to felicitate their Empowered Women of the year for its 4th consecutive year on 16th December 2007 at the BMICH. 21 Empowered Women of MAS's various business units were recognized for their personal and professional achievements.

The annual "Empowered Women of the Year" awards are a focus of the "Go Beyond" programme, through which employees excelling in all walks of life are recognized.

The programme aims to empower employees and impact communities by championing the cause of women's empowerment in society. The programme also focuses on ensuring employee's career advancement and strengthening their work-life balance.

Chief Guest, Gowrie Ponniah, Member of the MAS Strategic CSR Advisory Programme Coordinator of the International Programme for the Elimination of Child Labour at the ILO stated in her Keynote address: "MAS's plants are a valued member of the community that it is located in.

Not only contributing to the rapid economic improvement of the area, but also a major supporter of local educational, sports, environmental and religious activities.

Nationally, I am certain that the success of the Go Beyond programme spurred the Apparel Industry's Garments without Guilt campaign aiming at creating new global markets for our products".

Guests of Honours included, Country Director for Sri Lanka and India of Victoria's Secret, Reena Cheriyan, Director for NIKE- India, Sri Lanka & Pakistan, Athul Ujagar, Rosy Senanayake & Chandini Rajaratnam, Vice President Executive Creative Director, JWT.