Kidswear player Lilliput launches festive campaign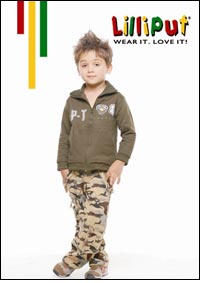 Lilliput Kidswear Ltd, the dominant player in the Kidswear industry announced a distinctive campaign for the festive season called 'Celebrate Lilliput'.

The new campaign offers return air tickets for a single person to select destinations in India for a small purchase of Rs 2,500.

On a purchase of over Rs 4,000, Lilliput offers an additional holiday package which includes hotel accommodation of two nights and three days to any select destinations in India or abroad.

Walk into any Lilliput store in India between December 21, 2007 to January 10, 2008 and get a guaranteed free domestic return air ticket on purchasing products of over Rs. 2,500. On purchasing products of over Rs 4,000, get an additional free holiday package for two adults and two kids (below 6 years).

The second offer includes hotel accommodation for two nights and three days in any select destination abroad as well as India.

TravelPort Holidays (India) Pvt Ltd is Lilliput's partner in this campaign. Users are required to call or email TravelPort and give their reservation preference.

The air tickets are offered for domestic regions on both schemes and the travel would need to be completed between February 15, 2008 to March 15, 2008.

Customers would only need to give three preferred dates and destinations and maintain a gap of one week between the preferred departure destinations.

Commenting on the campaign Mr. Kamal Gupta, VP, Retailof Lilliput Kidswear Ltd said, "The festive season is a great opportunity for us to serve and present our loyal customers with unique and special offers which they will value in the long run. It is always a pleasure to bring a smile on the faces of small children and provide value to our customers.