Spirit of the SHINE watch collection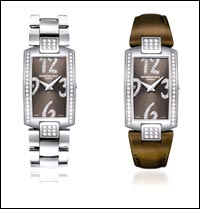 SHINE, the latest dazzling timepiece from RAYMOND WEIL, is yet another sparkling example of the unique aesthetic creativity of the independent Swiss family watchmaker.

The new watch, sprinkled with full-cut white diamonds chosen for their clarity, plays on the nuances of light and matter.

It offers a contrast between powerful steel, shimmering diamonds and deep-toned chocolate, forming an ensemble whose elegance and distinction is fully in keeping with the spirit of the SHINE collection.

Four steel and diamond Arabic numerals embellish the generously proportioned chocolate-brown dial.

The contemporary boldness of this new colour provides an extra touch of softness and sensuality to this jewel of a watch; as do the polished steel hands that mark the passing of time with a gleaming caress.

The gently curved case, with the curved links, characteristic of the SHINE collection, fits snugly to the wrist for perfect comfort and ergonomics.

It comes with both a steel bracelet equipped with the RW signature folding clasp, and a shantung satin bracelet in copper-brown.

Thanks to the patented RAYMOND WEIL quick-and-easy interchangeable bracelet system, SHINE watches can exude slick, city steeliness one minute and shantung, satin soirée sophistication the next.

This new jewel, perfectly attuned to the desires of modern women overflows with the glamour, sensuality, power and boldness that characterize the celebrated SHINE collection from the Geneva watchmaker.