Celebrities sparkle with Swarovski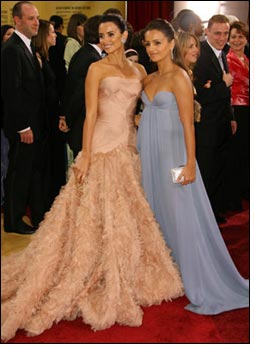 All through 2007, Swarovski made a grand entry with the glitterati on the red carpets of international events.

It all began with the 64th Golden Globe Awards held in January. Teri Hatcher flaunted her Carat Bag and Meryl Streep selected a Gourmand Clutch Bag for the occasion.

Then came the Oscars in February. Swarovski sparkled with the Cruz sisters - Penelope carried the Betty Bag and Monica the Beverly Hills Clutch. Jennifer Lopez with the Alcazar Evening Bag added to the glitz and glamour of the evening.

In May, the limelight turned towards the Cannes Film Festival. Winner of the "Best Actress" Award Do-Yeon Jeon, flaunted the Kim Bag from the Red Carpet Collection created especially for the event. Darryl Hannah wore the Crazy Earrings and Eva Herzigova wore the Collector Hair Clip and made heads turn.

In September, Leelee Sobieski, Susan Sarandon's daughter Eva Amurri and Emma Thompson were some of the stars that carried sparkling Swarovski handbags at the 32nd Toronto International Film Festival.

Swarovski believes in beauty with a purpose. In September, celebrities turned creative with Swarovski. Vanessa Williams and Katharine McPhee, for instance, created Swarovski studded jackets for an auction to raise funds for SOS villages worldwide.

October's highlight was the enthusiasm at the fashion and music extravaganza, Swarovski Fashion Rocks for the Prince's Trust that took place in London.

Naomi Campbell and Uma Thurman donned Swarovski products with pride. A large chunk of the proceeds were donated to the Trust.