Live from Planet Hollywood, Las Vegas, on TLC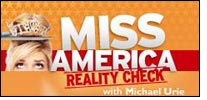 2008 Miss America Live! promises to be an exciting event with the announcement of the strikingly diverse panel of national judges.

This year's panel of seven esteemed judges includes a legendary Olympic athlete, an edgy fashion designer, Hollywood's hottest casting director, the editor of a trendy magazine, a successful entrepreneur, one of CNN's most popular newscasters and favorite fitness trainer.

They will evaluate the contestants from the preliminaries through the final night of competition, which will be premiering live from Planet Hollywood Resort and Casino in Las Vegas on Saturday, January 26, 2008 at 8:00 PM ET live/PT tape-delayed, exclusively on TLC.

Plus, this year America will get to play the part of judge as TLC introduces Miss America: America's Choice, an online competition designed to choose the 16th finalist.

The judges were announced by Sam Haskell, Chairman of the Board for the Miss America Organization (MAO), Art McMaster, President and CEO of MAO, and Anthony Eaton, Producer of 2008 Miss America Live! This year's panel of judges is comprised of experts in each of the fields that a young woman must excel in, in order to be named Miss America.

Miss America must be beautiful, talented, intelligent and well-spoken, a leader, have a commitment to her community, be contemporary in her style and fashion a relatable and individual "it girl" who can connect with modern woman, as well as being physically fit. To determine who will be Miss America 2008 the following panel of judges has been selected:

From the Field of Beauty and Fashion TRACE AYALA – This Memphis-born fashion designer is the co-founder of William Rast denim with his childhood friend, Justin Timberlake. Ayala designs comfortable and stylish denim with quality fabrics and a well-designed fit.

From the Field of National Press defining today's "It Girl" – SARAH IVENS - Ivens is the Editor-in-Chief of OK! Magazine, which under her key direction has become America's fastest-growing publication and one of the most successful magazines specializing in celebrity news.

From the Field of Community Service - JACKIE JOYNER-KERSEE - Considered one of the greatest athletes of all time, Joyner-Kersee is the first woman to win back-to-back gold medals in the seven disciplined event heptathlon.