Love from Hong Kong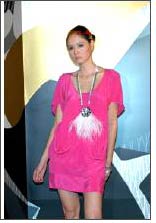 Fourteen Hong Kong designers showcased their latest collections under the theme "A Brave New World" at this evening's YD Alumni Club fashion party.

Led by top models Eunis Chan, Severa M, Ana R, Amanda S, Rosemary V, Lynn Xiong, Mikki Yao, the fashion show presented the designers' fashion in a palette of shocking colours and unique silhouettes, parading a sense of vigour and youthful spirit.

The participating designers, ex-winners and finalists of the Hong Kong Young Fashion Designers' Contest (YDC), were: Vic Cheung, Ruby Chui, Chow Tan Tan, Walter Kong, Hin Lee, Kevin Ng, Baldwin Pui, Otto Tang, Isabel Tong, Harrison Wong, Jacky Wong, Kurtis Wong, Ben Yan and Yeung Shiu Cheung.

This year's 18 YDC finalists also previewed their collections in advance of the Young Fashion Designers' Contest 2008, organised by the Hong Kong Trade Development Council (TDC). The annual event, YDC's 31st edition, takes place January 14 at the Hong Kong Convention and Exhibition Centre.

The contestants are competing for six coveted awards in three categories: Casual and Jeans Wear; Contemporary Day Wear; and Party and Evening Wear. The high-profile judging panel is led by two fashion-world stars: Maria Luisa Trussardi, President of Finos SpA, the financial holding of the Trussardi Group; and Tsumori Chisato, the renowned Japanese fashion designer.

Love from Hong Kong Hong Kong design excellence of another sort also found the spotlight. Fashion, graphics and words are the focus of "Love from Hong Kong," a design exhibition that opened in Hong Kong.

Leave your Comments
Recommended
Want to know what happened in the textile world this week? Watch now!
news category
---
Related Categories: