Eco KIDS for young ones at Premier KIDS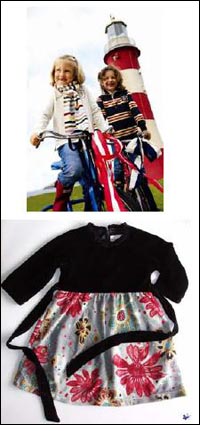 Premier KIDS, 27.28.29 January, 2008 NEC, invite buyers to Eco KIDS, a new section launching, that meet consumers' increasing demands to 'buy green' for their young ones.

Recycled, organic and/or Fairtrade products offer buyers fashion as well as a good conscience. Among the New Eco brands showing are; Natty Fair, Arabella Miller, Frugi, Stella James Organic Knitwear, Little Nomads, Little Scrimp, Cut4Cloth, One of Me and Olive and Moss.

Jill Barker, founder & owner of Green Baby, is co-hosting The ECO Story: "from fibres to figures" Sunday seminar together with Jackie Cook giving eco-strategies whilst boosting retailer's sales.

New and launching brands at Premier KIDS include; Vans, Buckle My Shoe, Lacoste Childrenswear, EMU Ridge Australia, Serendipity, Ver de Terre, Angulus and Jil & Sil.

From the makers of Lelli Kelly the new shoe brand Bull Boys launch to become the cult shoes in 2008. They are casual shoes with innovative fashion content. Prepare for an absolute novelty in the British shoe panorama.

Butterfly Island that loves to use soft and quality fabric for each outfit. From every garment, every button, every hand-made flower, or even a little bead, you can feel the details it strives to put into the garments. For this season garnet and pink are the main colours - the colour of passion and warmth, which makes autumn / winter 2008 so special.

Krista Lynggaard reflects the Scandinavian lifestyle using simplicity, unique materials, small important details, possibilities for variation, high quality, and room for movement for this season's eye-catching collection. New to the range is the peace line - basic pieces in the softest Cotton/Lycra.