Isaac Mizrahi to revitalize Liz Claiborne brand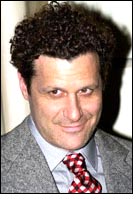 Liz Claiborne Inc announced that Isaac Mizrahi has been named Creative Director for the Liz Claiborne brand. In this role, Mr. Mizrahi will oversee the design and marketing functions for women's apparel, accessories and licensing. Mr. Mizrahi's first collection for Liz Claiborne will arrive in stores in spring 2009.

William L. McComb, Chief Executive Officer of Liz Claiborne Inc, said: "We are thrilled to welcome Isaac to our team and believe that his innovative design sense and widespread appeal will breathe new life into the Liz Claiborne brand.

It is certainly no secret that the brand has been lacking a clear and cohesive vision and has languished as a result. With this appointment, we are taking a major step towards our goal of creating irresistible product that will provide today's discerning woman with a compelling reason to buy."

Mr. Mizrahi said: "Liz Claiborne is an American fashion icon. Her clothes were not only beautiful, not only smart, they were revolutionary. She invented separates, and invented an entirely new category in the department store. She made fashion friendly and accessible and in doing so she became every woman's best friend.

These are all ideas I treasure and I'm honored to have the opportunity to build on this fantastic legacy and excited to reestablish the label as a must-have. And as excited as I am about developing Liz Claiborne, the collaboration also affords fantastic opportunities for growth in my own brand."