Best Practice Book of Sri Lankan cos by UN Global Compact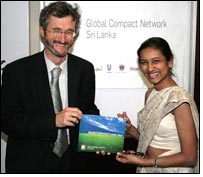 UN Global Compact Sri Lanka Network launched "Globally Positioning Sri Lanka's Best" a booklet showcasing 5 Best Practice case studies of Sri Lankan companies.

The launch took place in Monterrey, Mexico at the Local Networks Meeting where the first book was handed over to Mr. Georg Kell the Director of Global Compact by Amanthi Perera of the Sri Lanka Network.

Thereafter this book was included in the Local Networks Exhibition where over 25 networks presented tools and publications.

The case studies looked at MAS Holdings, Dialog PLC, Unilever Sri Lanka, Kelani Valley Plantations PLC and Aitken Spence PLC representing 5 of the key sectors in Sri Lanka namely, Apparel Manufacturing, Communication, FMCG Retail, Ceylon Tea and Tourism.

This book is in keeping with the vision and focus of the UNGC Local Network which is to take the best practice of UN Global Compact signatory companies of Sri Lanka and feature it in the Global Platform with a view of "Differentiating them".

Today the Global Compact is the world's largest, global corporate citizenship initiative with over 4200 members.

The Global Compact involves all the relevant social actors: governments, who defined the principles on which the initiative is based; companies, whose actions it seeks to influence; labour, in whose hands the concrete process of global production takes place; civil society organizations, representing the wider community of stakeholders; and The United Nations, the world's only truly global political forum, as an authoritative convener and facilitator.