Raymond Weil as official watch of The BRIT Awards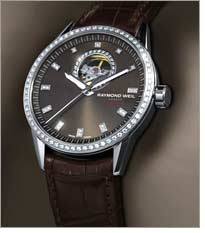 On the night of January 14th, 2008, over 2,500 guests gathered at The Roundhouse venue in London for The BRIT Awards 2008 with MasterCard Nomination Launch Party.

Luxury Geneva watchmaker RAYMOND WEIL is thrilled to announce their status, as Official Watch, to the most glamorous music awards event of the year - The BRIT Awards 2008 in association with MasterCard.

RAYMOND WEIL has enjoyed a long-term association with the music world. From design collaborations with Craig David, Jay Kay and Lemar to associations with other prestigious music events and sponsorship of the International Music Award at the annual Nordoff-Robbins Silver Clef lunch.

The brand is a long-term supporter of Nordoff-Robbins, which provides music therapy for both adults and children. Most recently RAYMOND WEIL linked up with famous British singer Leona Lewis.

This exciting new partnership with The BRIT Awards 2008 consolidates RAYMOND WEIL's relationship with the music industry.

To celebrate what promises to be the biggest and best event to date, RAYMOND WEIL as Official Watch of The BRIT Awards 2008, has designed a special, limited edition freelancer that will be presented to all performers and presenters involved in the 2008 show.

The stunning and sophisticated watch features a round case with a pave diamond bezel on a gorgeous chocolate brown alligator strap.

The unisex timepiece boasts a cut out on the matching chocolate dial and shows the mechanism of the Swiss movement itself with a visible balance wheel.