XMI Fall 2008 Platinum Collection at Designers Collective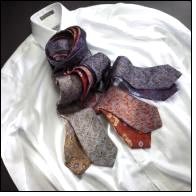 XMI Corporation, a leading designer and manufacturer of premium mens' and boys' neckwear, dress shirts, sports shirts, and accessories, debuts its 2008 Platinum Shirt Collection at the Designers Collective show (Booth no 2406) being held at Pier 94 in New York City.

"Our Platinum Collection, or as we like to say, our 'Well Made Shirt Collection,' encompasses extra details to embody each shirt's impeccable style, maximum comfort and the perfect fit three qualities that have been a trademark of the XMI brand for the past 20 years," said Jack Khzouz, president and CEO of XMI.

"The line is a natural compliment to our very popular Platinum Neckwear Collection, which we first introduced in 1988," he added.

Unlike other shirt brands, XMI's 2008 Platinum Collection features "off-set" arm seams which allow greater flexibility and more comfort.

Other designers typically include one straight seam that begins at the underarms and continues down each side of the shirt, restricting arm movement.

Additionally, the Collection offers a "deeper set" collar that allows the tips of the collar to rest comfortably on the collar bone.

Each shirt is double stitched around the collar band to help maintain the shape and integrity of the collar. This fine detailing is not common among other shirt designers.

"Because of its superior design, the Collection provides a number of unique speaking points for retail sales representatives to pass onto their customers a key element that has been missing from the menswear category for some time," said Bert Pulitzer, founder and lead designer of XMI.