Stahl F/W colour forecast plays hide & seek with amazement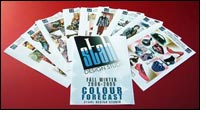 The new Colour Forecast for Autumn/Winter 2008/2009 produced by Stahl's Design Studio shows fashion playing hide and seek in a reflective mood of amazement and rethinking in altering the appearance of surfaces. The main aim is the "feel good" factor. The main feel for colour is one of toned-down contemplation and meditation in a world of "big monochromes", emotion and physical impact contrasting with dramatic colours, textures and decoration.

The forecast is divided into six sections based on colour and atmosphere.

Daily Luxury shows how the strict grammar of chic is returning into life with volume, structure and stylised, disciplined shapes. Like a chessboard, black and grey are the extremes of light and dark. In between, colours are reminiscent of the greens and browns of a formal courtyard garden. Surfaces, inspired by the timeless charm of the equestrian world, have a look of semi-polished natural refinement.

From the peace of the garden, the forecast moves to the excitement and glamour of the party. Electric Party is a rainbow of colours, a gorgeous colour explosion of reds, peach-pinks, bronzes and purples. Together with rounded, puffed shapes and volumes, this is a world of joyful femininity in sparkling, decorated, evening-wear for the woman who wants life and zest.

Look to nature, the fields and forest, the seas and skies and Autumn and Winter is a time when the light fades towards a world of greyness. As the temperatures fall,everyone is reminded of the need to live in an eco-friendly way. Eco-Energy, then, is a colour palette that reflects the blurring of nature as winter closes in over the northern seas. Colours are warm neutrals and earthy. There are reminders of thick mists, stones in cold waters and grainy, windswept cliffs. Wrap up warm from top to toe, from chic hats to sturdy boots, merging muted colours from the cooler part of the spectrum.