Show for Optical & Ophthalmic Professionals in Feb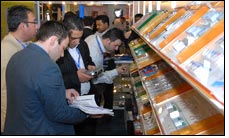 Vision- X Dubai 2008 is the region's premier business platform and conference for the optical and ophthalmic industry.

Taking place from 18-20 February 2008 at the Dubai International Convention and Exhibition Centre, this year's event is set to attract the most international range of visitors and exhibitors in its history.

Over 160 companies from 27 countries are set to exhibit their products and services in 2008, including the debut of an Italian national pavilion, showcasing the latest in Italian products.

New for 2008, and in direct response to the diverse needs of the industry, organiser Dubai World Trade Centre has segmented Vision-X Dubai into two new sub-brands, Vision-Lifestyle and Vision-Opticare.

"The ongoing growth of the eyewear and eye-care markets is enabling greater specialisation on the part of companies supplying the Middle East.

To reflect these ongoing market trends, we are creating two distinct sections of the show to create stronger retail business opportunities, in addition to optical healthcare networking and development opportunities," says Helal Saeed Al Marri, Director General, Dubai World Trade Centre (DWTC).

The two distinct sub-brands will enable visitors and exhibitors to see the latest innovations that are most relevant to their sector, as well as providing a strong platform for business development.

Vision-Opticare which will facilitate the needs of medical and technical professionals in the eye care industry, showcasing the latest in ophthalmic, optometric and technical equipment, instruments and machinery.

Vision Lifestyle which will cater to the fashion industry featuring branded eyewear as well as unique international designs.