Kao Men's Bioré series to be renewed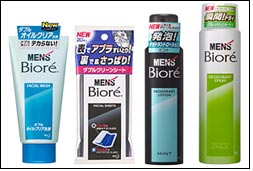 Kao Corporation will enhance and relaunch the Men's Bioré series nationwide in Japan on March 8, 2008.

The improved series is designed to answer men's concerns about their skin by helping them realize clean, healthy skin.

A recent Kao Survey (2006) shows that for recent men, worry and needs for both face skin and body skin diversify and increase.

Therefore, their use rate of the skin care commodity increases, and men's skin care market keeps extending.

The renewed Men's Bioré series will launch non-scrub type facial foam Double Oil Clear Facial Foam and double-sided facial sheets Double Clean Sheets for three major concerns of facial greasiness, sebum, and shininess.

Additionally, it will launch high-performance perspiration deodorant spray Foam Deodorant Lotion and existing deodorant spray Instant Dry Spray has been improved to expand the product line with items newly perfume for three major concerns of bodily perspiration, malodor, and greasiness.

Product Features:
• Men's Bioré Double Oil Clear Facial Foam
Non-scrub type facial foam containing "Double Oil Clear Ingredients" (sebum-dissolving oil and sebum-absorbing powder)
- Thoroughly removes greasy sebum and prevents shininess.
- Provides a refreshing finish.
- Fresh Aqua Mint Scent.
- Preventive effect against acne.

• Men's Bioré Double Clean Sheets
Double-sided face wipes with double effects
- The dry front side absorbs sebum.