Apparel brand Worth Collection to bring Fashion Week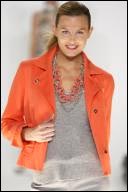 Worth, which designs and shows four collections per year of couture-inspired, ready-to-wear fashions, is bringing its Spring/Summer 2008 collection to cities across the country over the next several months via chic trunk shows.

Finally, there's a hassle-free way for fashion-conscious, on-the-go women to learn about the season's key trends, see those trends brought to life in sophisticated and wearable styles and plan their wardrobes without having to leave town or pore over fashion magazines.

According to Diane Manley, Vice President of Design at The Worth Collection, looking runway-chic and modern each season is easy. Says Manley, "The key is to start with high-quality, classic anchor pieces like pants and suits and update them each season with a few, fresh trend pieces that have staying power."

So what are those pieces? Following are the season's key trends and Manley's suggestions for what to buy now to update your wardrobe so you'll look chic and modern this spring and summer:
- '70s Glam: Think Yves Saint Laurent designs from the era and the Studio 54 look. Underscoring the trend, Christian Dior's show in Paris featured a mix of music from Led Zeppelin and Jimi Hendrix, and Eli Saab's couture collection "could have been an ode to the James Bond film, Diamonds Are Forever," according to Fashion Week Daily.

- Get the Look with Worth: the Pique Biker Jacket in yellow or orange, the A-line Sonic Slicker in ivory or black and the Dinner Poncho in white or black silk charmeuse to wear with highwaisted pants or glam-rock jeans and a pair of stilettos.

- Buds and Blooms: Flowers were positively blossoming on the Paris runways with Valentino showing dresses and gowns featuring large florals but in subdued shades of pink, lavender and yellow and John Galliano at Dior gracing his dresses and gowns with rows of magnificent sculpted fabric roses.

- Get the Look from Worth: The Mini Floral Cinch Waist Shirt, the Dahlia Bouquet and Orchid Ice Floral Silk Squares, which look chic worn as blouses, and a jacket structured in the shape of a flower petal.