ABIT brings international buyers to the 30th FIT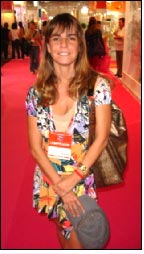 ABIT, through Texbrasil, a Program that encourages exports of Brazilian textiles and apparel, developed in partnership with Apex-Brasil, brought four international buyers to the International Children – Teen – Baby Fair (FIT).

The event was held January 21-25 at Expo Center Norte in São Paulo. Parallel to FIT, the buyers also had the opportunity to get to know the products from exhibiters who participated in the Opera Group – Professional Children's Fashion and Decoration Fair held January 20-24 in the city of São Paulo.

ABIT brought Patrícia Caiado, from Flower BE, straight from Portugal. "We are interested in some products. This is my first visit here.

I learned the possibilities and made many contacts to see what we could take to Europe later. I am looking for a factory that can produce wool pieces," she said.

Dania Punales, an Anilu (USA) representative, has been to the last 24 editions of FIT and she underscores the importance of participating in the fair. "Since we work with other countries, we have found goods and made friends here in Brazil.

We focus on products for babies and accessories and we always have possibilities for new business." Buyer Wanda Torrijos, of Celeste y Rosas SA (Panama), has been visiting the fair for three years.

In this edition, she came in search of outfits, dresses and baby clothes. "What I liked the most was the innovation of the products I found. They compare to the Italian articles," she said.