New eye catching brands showing in Pure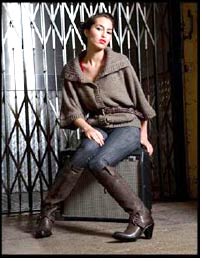 Pure is just one week away and already has key buyers and one particular celebrity boutique buyer confirmed their attendance. Over 800 collections will be unveiled at Pure 10.11.12 February 2008 along with the launching Pure Footwear section and the new Spirit Catwalk.

New brands showing at Pure Footwear; Ravel (re-launching the brand); Steve Madden Fix; Luna;"L" by Miss L.Fire; Accessoire-Diffusion; Amber & Jade; Anna Wong; aspiga Elite; Audley; B4You; Beavers Clogs; Belen Donate; Blink; Blowfish Malibu; Bronx; Carlton London; Cushe Footwear; Diba; Dick Boons; Ditomo; Feud London; Fiona McGuinness; Firetrap; F-Troupe; FullCircle Shoes; G2B; J.Valas; José Reis Design; KillDoll; Land Rover; Latino Sole; Logo 69; London Rebel; Lundi Bleu; Marabar; Maruti; Miss L.Fire; N.D.C Made By Hand; Ognjen; Papaborsa; Paparazzi; Papascarpa; Paradoxale; Ravel; Red Leopard; Redotto; Robert•Robert; Rocket Dog; Rocket Kids; Rocket Mens; ShoeGirls; Snowjoggers; Soloro; Stefano Eastmani; Terra Plana; United Nude; Urban Sole; Vanilla Moon; Xavier Danaud; You by Crocs; Yves Desfarge; Glitz; Sabatiniand Steven By Steve Madden.

Returning key footwear brands include; Ugly Duckling (pictured), Fly London, Harmanli, Terry De Havilland; Neosens; PERtu; Vagabond; Odeon; Gola Sport; Strutt Couture; Bourne; Lisa Kay and Thierry Rabotin.

New eye catching brands showing in Pure Accessories include; Becksöndergaard Copenhagen; Miss Sixty; HeleneBergman; Jocasi London; Miss Dee; TheRubber Cow, Red or Dead, Butterfly Jewellery, Barbara Wiggins London, Ballerina; M'appazza; Aventure; Bibi Brooks and Valerie Corona among others.