Bobbi Brown & Heart Truth to create Limited-Edition Red Lip Palette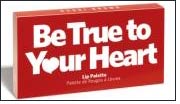 Bobbi Brown Cosmetics announces the creation of an exclusive, limited-edition red lip palette in partnership with The Heart Truth campaign and its annual Red Dress Collection Fashion Show.

The palette was created to raise awareness for the campaign and its message that heart disease is the #1 killer of women.

The show, of which Bobbi Brown Cosmetics is also an official sponsor for the third year in a row, will bring Hollywood's leading ladies together on one runway at "The Tent" at Bryant Park during the Mercedes-Benz Fashion Week on February 1st at 10:00 am.

The Bobbi Brown Lip Palette includes beauty expert Bobbi Brown's favorite lipstick shades in a range of neutral and deep colors.

Shades include Mauve Lip Shimmer, Kir Lip Shimmer, Cranberry Lip Sheer and Slopes Lip Color. A specially designed package that features the tagline "Be True to Your Heart."

Only 500 of these limited-edition palettes will be available on BobbiBrown.com for $40.00. The palette also includes a mini Lip Brush.

"I am thrilled to be a part of The Heart Truth's Red Dress Collection Fashion Show for a third year in a row. It's important to educate and empower women with the knowledge they need to make smart lifestyle choices and The Heart Truth does a great job of getting the word out," says Brown.

Women scheduled to walk the runway this year in support of the Red Dress Collection 2008 include: Heidi Klum, Molly Sims, Joss Stone, Allison Janney, Patricia Heaton, Camryn Manheim, Lisa Rinna, Maria Menounos and more.