Dragão Fashion Brasil to kick off on Feb 12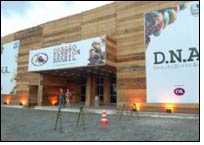 Dragão of All Arts. That is Dragão Fashion Brasil's concept this year, signaling the broadening of the country's largest author fashion event's relations with cinema, arts and crafts and other cultural manifestations.

And the starting point will be a very appropriate place: precisely an art gallery. The 2008 edition of the DFB will begin February 12, at 8pm, at the Mariana Furlani Contemporary Art gallery in Fortaleza, Ceará.

ABIT, through Texbrasil, a program developed in partnership with Apex-Brasil, supports the event once again, bringing international journalists.

T a cocktail for stylists, the press, sponsors and guests, a multimedia exhibit will take us back through the past eight editions of the DFB.

Photo panels and a video with a history of the previous editions will remind the guests of the most notable moments. Mannequins will be wearing pieces from the collections of designers who have contributed to the event's success.

Fashion's dialogue with art will spotlight Ceará as a cultural promotion center. Two big events in the state calendar are DFB partners in 2008: the Abril Fair and Cine Ceará, which will have exhibits especially prepared for the period. Everything will be gathered from March 31 to April 5 with a broad schedule of activities at both places.

The event returns to its origins, the Dragão do Mar Art and Culture Center, in 2008, which is where the first editions were held. The opening and closing of the event will take place there.