Special Days for autumn-winter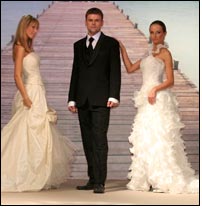 Join us to participate in the March edition of the Exhibition of Wedding, First Communion and Evening Fashion SPECIAL DAYS with collections for the autumn-winter 2008/09 season.

The Special Days Exhibition sets out a new way of trading in wedding and special fashion, which has not been practiced in Poland so far.

Contracts are signed for collections to bridal shops. Positive feedback from participants of the first edition of Special Days and an increase in the number of exhibitors of this edition prove that the sector of wedding fashion and apparel for special occasions needs such a professional meeting place to conclude contracts and expects improvements on the market distorted by consumer trade shows.

Professional contracting for ladies' and men's collections for special occasions, wedding accessories offered by Polish, Spanish, Italian, German, Bulgarian and American brands opportunities to see collections during daily fashion shows a book of trends presenting colours and models convenient atmosphere and top quality trade fair services assistance in organisation of your stay at the fair

The March edition of SPECIAL DAYS 2008 will create an opportunity for traders to sign contracts for evening, cocktail and ball fashion by NAVONA, exquisite bridal and first communion dresses offered by AFRODYTA.

Outfits are as important as invitations for guests and the organisation of a wedding party. This is why, for the first time ever, the exhibition features luxurious invitations to wedding receptions and other functions, as well as wedding decorations designed by DELTA GRAPHIX, a leader in artistic printing.